Frequently ASKED QUESTIONS
WHAT OPERATING SYSTEMS DOES TAG THAT PHOTO RUN ON?
Tag That Photo is a Microsoft 64-bit Windows OS desktop software application. Includes Windows 7, 8, 10, and 11 with the latest service packs. It does not support 32 bit Windows systems.
IS TAG THAT PHOTO A CLOUD SERVICE?
No, Tag That Photo is installed and operated locally on your Windows desktop or laptop. You decide which folders you want it to scan for photos. As long as you can see the folders from Windows File Explorer, Tag That Photo should be able to manage them. This includes folders on drives physically in your computer, or local folders that are mirrored to a cloud-based service such as Dropbox, USB drives, or network-attached drives such as NAS devices. Just be sure the drives are normally resident and not temporarily attached to your system.
WHAT METADATA FORMAT DOES TAG THAT PHOTO USE?
Tag That Photo licensed subscribers have the option to write tags (face tags, meta tags, and geotags) into each image using Adobe's XMP metadata format. We adhere to the Metadata Working Group standard, similar to Microsoft Gallery, Picasa, and others. This ensures that the tagging information is preserved and "goes with" the image when opened in other programs. More info about XMP can be found on Wikipedia.
IS THE XMP METADATA WRITTEN INTO THE IMAGE?
Writing the XMP metadata into the image is an optional feature of Tag That Photo and will not conflict with the IPTC or Exif data. Regardless of whether you check the box for XMP writing, the metadata is also written into a separate local database on your computer.  That is stored in the AppData folder under your User account. 
MY VIRUS SCAN IS BLOCKING THE TAG THAT PHOTO ".EXE" INSTALLER. SHOULD I BE CONCERNED?
We regularly submit Tag That Photo to VirusTotal. VirusTotal checks against 70+ antivirus scanners. Scanning analysis reports consistently show a "clean run" with no virus or malware exposures. Tag That Photo users can use VirusTotal as well. It is free to end users for non-commercial use. Simply select a file from your computer (TTP Installer file, in this case) and send it to VirusTotal (https://www.virustotal.com/gui/home/upload).
DO YOU SUPPORT MACs?
We don't support Apple Macs.  However, we do have users running Windows on their Mac using Parallels and that functions well.  
If you tag photos with TTP and share them with a Mac user, viewing the "Get Info" for those images will display the tag names in the keyword field.  Example - "Keyword: Joe; Mary; Sam"
What file formats does TTP support?
Tag That Photo supports JPEG, PNG, and TIFF file formats with the free version.
With a paid subscription plan, you can also manage HEIC and Raw image formats.
I'm not able to view RAW and/or HEIC image formats. What do I need to do?
If you are unable to view Raw and/or HEIC/HEIF image formats, it is most likely due to the image drivers available on your device. To support viewing and scanning Raw and HEIC/HEIF image formats, TTP uses Microsoft-supplied image drivers available from the Microsoft Store:
At this time, these are free. We should note that, depending on your device, you may find that the HEVC extension is also needed (approx. $1 USD as of March 2021).
CAN TAG THAT PHOTO IMPORT MY EXISTING PICASA TAGS?
Picasa offers an option in the most recent public version to export the face tagging metadata in Adobe XMP format. Tag That Photo reads these tags when the image is scanned and merges the face tagging metadata with TagThatPhoto face tags.
Below are instructions to assist you in exporting Picasa face tags to the XMP metadata format,
First, in Picasa, go to Tools > Experimental > Write faces to XMP.
(This is necessary for Tag That Photo to read the image XMP face tags.)
From the options, select "Write Faces". (Other options are "Write Selected; "Write All"; "Cancel")
Write Faces or Write All might take awhile.
After Picasa has written all the face tags into the images, start Tag That Photo.
On the Settings screen (gear icon in upper right of window), select the "Add Folder" button.
Select your Picasa library/folder(s) to be added.
After a few seconds, Tag That Photo will begin to scan the images in the Picasa library and add the folder to the Tag That Photo library.
Tag That Photo is now able to read the face tag info written by Picasa.
CAN TAG THAT PHOTO IMPORT MY EXISTING FOTOBOUNCE TAGS?
Absolutely. Tag That Photo provides the option to read and import the proprietary Fotobounce database tag info. We use our Tag That Photo face detection method and we have our own face tags; however, Tag That Photo merges the Fotobounce tagging info. Where the face rectangle overlaps, we use the Fotobounce name for our face tag. This mapping preserves your existing tagging efforts, but by using our own tags we can provide you with advanced face recognition going forward with new images.
Below are instructions to assist you in importing your Fotobounce tags:
Ensure Fotobounce is shut down.
Check that it's not running in the system tray as well.
After installing Tag That Photo -- on the Settings screen, click the link to "import Fotobounce library."
Select your Fotobounce library/folder.
After a few seconds, Tag That Photo will begin to scan the images in the Fotobounce library and add the folder to the Tag That Photo library.
I'd like to move from Windows Photo Gallery to Tag That Photo. Can I do so and not lose my tags?
Yes!  Tag That Photo can view and import tags added in Windows Photo Gallery (WPG), which are written in the MS Photo Spec 1.2 XMP format. TTP also embeds any face tags using the MWG metadata format which means your tags will be compatible with other photo applications. If you want to use both WPG and TTP without creating face tag issues, simply disable face tag writing in WPG and start using TTP to write MS face tags going forward.  WPG will read the Tag That Photo face tags and update its local database. For more info, check out our "Working with MS Photo Gallery" tutorial video.
DOES TAG THAT PHOTO ENABLE MANUAL FACE TAGGING?
Should there be occasions when Tag That Photo does not detect a face, users are able to manually tag a face within a photo. Note that manual faces are not used for recognition purposes.
WILL I BE ABLE TO SEARCH FOR PEOPLE BY "INCLUDING" OR "EXCLUDING" PERSON A, B, C, D?
Absolutely! Tag That Photo provides for Simple Search as well as Advanced Search. Advanced Search will make it easy for users to filter by including and excluding images based on face tags and/or manually added info tags.
Can I view photos on a map using geo-tagging?
Absolutely! Tag That Photo integrates with geo-tagging to display individual photos on a map view.
If I store my photos on OneDrive, will all my TTP tagging be saved?
Absolutely – as long as you set OneDrive to save all data on your local machine. The screenshot below shows settings for a OneDrive personal account. Note that "Make all files available" is checked. This ensures folders are available locally. Visit https://bit.ly/39leVMQ for more information about On Demand settings in OneDrive.
Because Tag That Photo is installed and operates locally, any folders/files being managed using TTP must be available on your local hard drive. The same applies if using Dropbox to store your photos. 
Note that the same approach applies to Google Drive and Dropbox.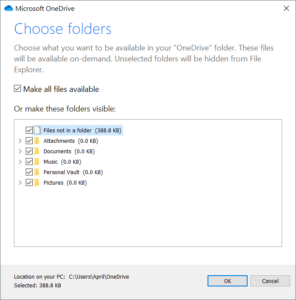 I RUN PHOTO ORGANIZATON SOFTWARE ON A PC AND HAVE IT MANAGE THE PHOTOS ON MY NETWORK DRIVE. CAN TAGTHATPHOTO WORK SIMILARLY?
Yes, Tag That Photo can work equally well with photos from a single desktop or on a network (NAS) drive.  The only requirement is that you map a Windows drive letter to any network drive.
HOW MUCH DOES TAG THAT PHOTO COST?
Tag That Photo is subscription-based. We offer a free version that is good for tagging up to 10 people.  For tagging more people, an annual subscription is $19 USD per year for Personal Lite (good for tagging up to 100 people), and Personal Premium is $39 USD per year for unlimited tagging.  There is a Family Plan that provides three Premium licenses for $59 USD per year.  See more details on our Plans page.